Air Europa installs the streaming service on its long distance fleet to offer its passengers personalised entertainment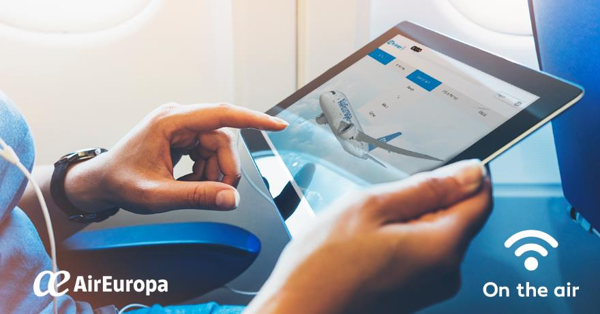 1 March, 2017
Air Europa installs the streaming service on its long-distance fleet to offer its passengers
Passengers on the Airbus 330 fleet can download a wide variety of audio-visual content onto their personal devices. This new system is among the best on-board services offered by the airline.
Air Europa takes yet another step to improve its on-board services, with the installation of the streaming service on its Airbus 330 fleet. This guarantees its passengers personal and customised entertainment by allowing them to download, totally free, a wide variety of audio-visual content onto their individual devices.
The airline has undertaken the installation of this wireless service, which gives passengers, via the on-board network, access to diverse content, including films, thematic television channels, games and the Moving Map that customers can view by downloading the On the Air app in advance onto their device from the Apple Store (iOS) or Google Play (Android).
During the flight, with flight mode activated, passengers can connect to the On the Air WiFi to access the home page, where they can select entertainment from the top menu and choose the content they wish to view on their devices.
Air Europa, which will regularly update this content with recent films, games and new documentaries, travel and lifestyle shows, etc., now has this service installed in ten Airbus aircraft.
With the installation of the streaming system, the airline continues its mission to offer passengers the latest technology. In this regard, it is fitting to mention that Air Europa's long- distance planes are equipped with WiFi via satellite, thanks to the innovative eXConnect system from the Panasonic Avionics Corporation.