Air Europa brings the Israel desert closer to Spain with its new flight to Eilat

10 July, 2018
Air Europa incorporates new flight connections to Israel. From 30 October, the Globalia air division will become the only airline to offer direct flights between Madrid and Eilat, located in Southern Israel. This new connection will operate until 26 March and will allow Spanish travellers to fly directly to this region of Israel. Air Europa will offer one flight per week during this period. With this new route, the company will offer a total of nine weekly flights between Madrid and Israel (8 to Tel Aviv operated with the Boeing 787 Dreamliner and 1 to Eilat). This new flight connection was presented in a ceremony in Madrid attended by Yariv Levin, Minister of Tourism in Israel, and Javier Hidalgo, CEO of Globalia and Air Europa.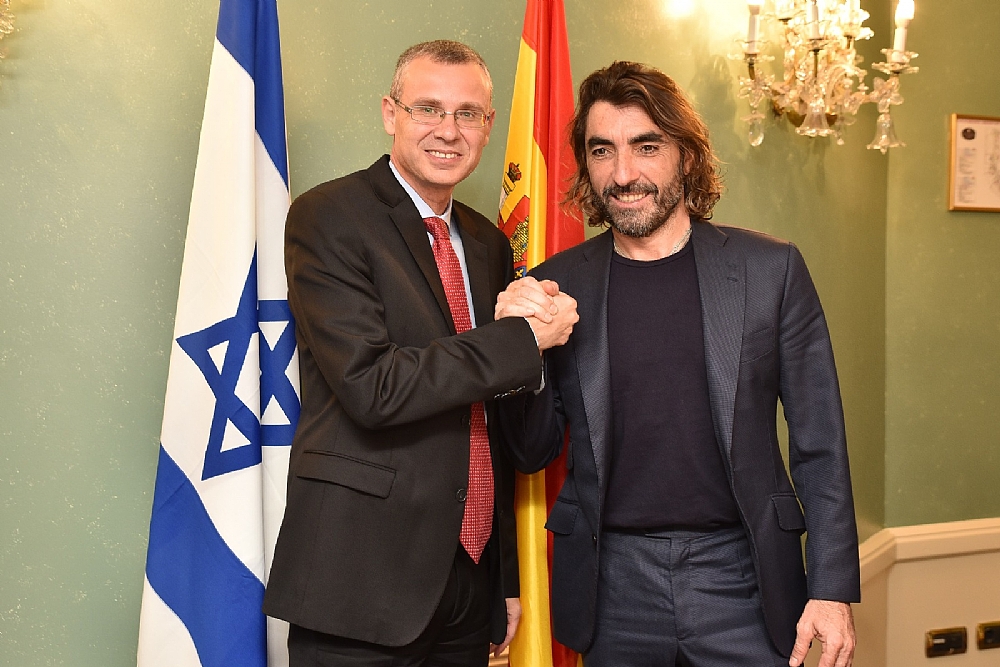 The airline will operate the new flight with a Boeing 737-800 with a capacity of 186 passengers (12 in Business Class and 174 in Tourist Class). The flight will leave Madrid at 8.15 a.m. and land at Ovda Airport,Eilat, at 1.10 p.m. The return flight will leave Israel at 2.10 p.m. and will land in Madrid at 8.05 p.m. The schedule of this new route will ensure that passengers travelling from Eilat can catch night-time transatlantic flight connections operated by Air Europa through Adolfo Suárez Airport, as well as several domestic flights.
Levin highlighted that "Eilat is a very special city because it offers a unique combination between the sea and the desert, and has winter temperatures averaging 20 degrees Celsius with very little rain". According to the Minister of Tourism in Israel, this flight will transport travellers to "a different world in just 4 to 5 hours".
Furthermore, Levin explained that Israel is not only a religious destination with sacred sites, but also a modern country with vibrant nightlife, excellent cuisine, beaches, and all the services that tourists need to have a superb holiday.
Meanwhile, the CEO of Globalia expressed just how satisfied the tourism group is with this new route: "it enables us to consolidate our position in a country which we have operated to since 2015 (Tel Aviv), and helps us to position ourselves as a thriving airline in the sector". Similarly, Javier Hidalgo believes that the new route "allows us to strengthen our ties and open a new door to tourism in Israel, while also giving all our passengers the opportunity to experience the enormous natural potential, and varied and extensive offering of this city located on the shores of the breathtaking Red Sea".
With the new route to Ovda Airport, Air Europa puts outstanding tourist spots just a few hours away from Spain, such as Eilat, the Negev Desert, and the Makhtesh Ramon crater. Southern Israel is one of the most sought-after regions by travellers from all over the world, and the Israeli Ministry of Tourism is working hard to turn it into an essential destination in Israel alongside Jerusalem and Tel Aviv. Indeed, several initiatives aimed at consumers and professionals have already been launched including publicity, agreements with tour operators, and press releases.
Eilat is the capital of the Red Sea. With temperatures averaging over 22ºC and sun 360 days a year, the city has something for all travellers, from those looking to relax on its beaches or practice water sports, such as water skiing, banana boating, snorkelling, and kayaking, to other activities including hiking, cycling, off-road driving, camel riding, and even rock climbing and abseiling in the mountains located to the south of the city. And, of course, let's not forget Israel's popular and vibrant nightlife.
Timna Park is located just 30 minutes from Eilat. In this geological paradise, visitors can observe different peculiar and fascinating rock structures formed by wind erosion over the years. In this spot, the force of nature has created stone structures such as the "Mushroom", "Spiral Hill", and "Solomon's Pillars". What's more, at night, these natural rock formations are lit up for the enjoyment of visitors. Finally, this enclave is of significant historical importance as it was a copper quarry used by the Egyptians. In fact, it is considered the world's oldest copper mine.
Approximately 150 kilometres to the north is the visitor centre of the Ramon crater (Makhtesh Ramon in Hebrew) located in the heart of the Negev Desert. The Ramon crater is 40 kilometres long and between 2 and 10 kilometres wide, and is shaped like an elongated heart. It forms part of the Ramon Nature Reserve which also includes the mountains surrounding Negev. This area has everything for lovers of active tourism: hiking, cycling, segwaying, sandboarding, and jeep routes, in addition to other more relaxed activities such as stargazing, winery tours, and bathing in natural springs in the heart of the desert.
TAL Aviation has been representing Air Europa as its General Sales Agent (GSA) for Israel and Russia for almost a decade closely followed by expansion of cooperation in Greece, Korea, Mexico, Moldova, Romania and Turkey. With the increase in passenger traffic over the years in Israel, TAL Aviation was excited when Air Europa commenced its first online operation in 2015 and not welcomes its latest expansion of a direct service to Eilat.