Fly Worry-Free

3 September, 2020
Flag carrier Philippine Airlines is recognized as one of the top ten airlines with the highest safety credentials for travel during COVID19.
PAL was one of more than 150 airlines audited on its Covid-19 safety credentials by Safe Travel Barometer, an independent subsidiary of travel industry advisory and consulting firm VIDEC.
PAL secured a 4.2 rating out of 5.0, the highest score.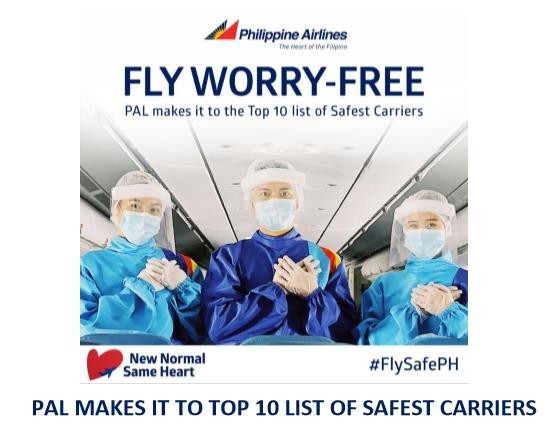 PAL President and Chief Operating Officer Gilbert Santa Maria said, "We are grateful for the unexpected recognition, and honored to be recognized for doing the right thing. PAL shall continue to maintain the highest standards of safety and the protection of the health of our colleagues and all the passengers in our care."
"The fundamental premise of Safe Travel Score is to benchmark travel brands' initiatives to reduce traveler anxiety," said Virendra Jain, co-founder and chief executive of Safe Travel.
The flag carrier's safe travel score tied with China Airlines, Hawaiian Airlines, AirAsia Malaysia and UAE's Emirates.
The rating system provided a score for each stage of the travel journey - pre-flight, the actual flight and post flight.
The 'Top Ten':
1. Lufthansa: 4.5
2. Vistara: 4.4
3. Delta Airlines: 4.4
4. Allegiant Air: 4.4
5. China Airlines: 4.2
6. Hawaiian Airlines: 4.2
7. AirAsia 4.2
8. Emirates: 4.2
9. Philippine Airlines: 4.2
10. Alaska Airlines: 4.1
The rating includes COVID-19 related hygiene and safety measures announced by airlines for travelers and its crew.
PAL has been carrying out the following safety protocols vs. Covid 19:
Provides Personal Protective Equipment (PPE) for cabin crew for use throughout the flight
Carries out disinfection of aircraft surfaces before and after every flight using high-grade eco-friendly cleaning agents - Uses High Efficiency Particulate Air (HEPA) filters to cleanse cabin air of bacteria, viruses, and impurities with 99.99% efficacy
Carries out simplified inflight food service to minimize contact between cabin crew and passengers
Conducts Covid19 testing for returning Filipino (non-Overseas Filipino Workers) and foreign travelers
Mandates the use of face masks and shields among all travelers and airline workers
Ensures availability of hand sanitizers at pre-flight facilities (ticket offices/check in counters /boarding gates), flight proper and post-flight.