American Airlines Transports Critical Supplies to US and Beyond

10 April, 2020
At American Airlines, caring for people extends beyond the airplane. In times of need, American is there to care for the communities we serve. The airline is expanding its cargo-only operation this month to provide more than 5.5 million pounds of capacity to transport critical goods each week between the U.S. and Europe, Asia and Latin America.
These flights will help transport life-saving medical supplies and materials to the U.S., including personal protective equipment and pharmaceuticals. Other essential goods will include manufacturing and automotive equipment, fresh fruits and vegetables, fish, mail, and electronics.
"The air cargo industry plays a critical role in pulling the world together in times of crisis, and it takes all of us to get the job done," said Rick Elieson, President of Cargo and Vice President of International Operations. "With the expansion of American's cargo-only flights, we have more capacity to bring critical medical supplies and protective gear to the areas that need it most. We also play a key role in transporting essential goods to keep the world's economy moving. I take immense pride in all the ways our airline and our industry are responding to make a difference when the world needs us most."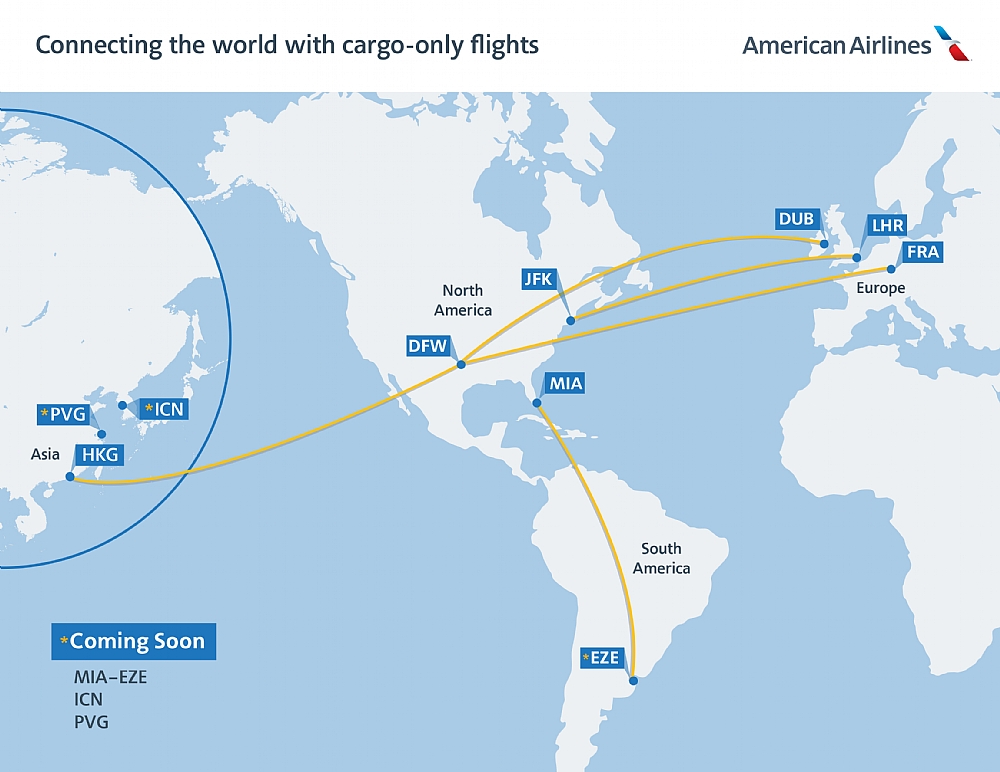 In March, the airline began operating its first cargo-only flights since 1984 between Dallas-Fort Worth (DFW) and Frankfurt (FRA), transporting more than 350,000 pounds of medical supplies, mail for active U.S. military, telecommunications equipment and electronics to support communities impacted by the coronavirus (COVID-19) health crisis around the globe.
In the coming week, American will expand its cargo-only service to multiple destinations with the addition of flights from DFW to Dublin (DUB) and Hong Kong (HKG); between New York (JFK) and London Heathrow (LHR). The airline is also working toward adding cargo-only service to Shanghai (PVG) and Seoul (ICN) and between Miami (MIA) and Buenos Aires (EZE) by the end of the month.
In addition to this service, American continues to carry cargo on all of its passenger flights. Internationally, the airline's widebody aircraft operate 17 weekly flights. Passenger flights on widebody aircraft include daily service between DFW and LHR, daily service between MIA and LHR and three weekly flights between DFW and Tokyo Narita (NRT).