Bangkok Airways introduces new in-flight menus for 2019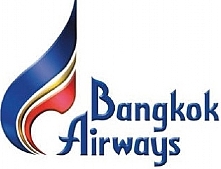 20 February, 2019
Bangkok Airways Public Company Limited led by Ms. Amornrat Konsawat, Acting Vice President - Network and Fleet Management & Director - Product Development and Delivery (2ndfrom left) together with Bangkok Air Catering Co. represented by Mr. Amorn Rassamesangpetch, Director - Corporate Sales & Marketing (1stfrom right) and Mr. Charoonya Napon, Executive Chef (2nd from right), jointly organized a press conference and presentation of Bangkok Airways' new in-flight menus for 2019 under the concept, "Boutique Street Food." The press conference is held at the Vanilla Room, Bangkok Air Catering, Suvarnabhumi Airport.
Amornrat Konsawat, Acting Vice President - Network and Fleet Management & Director - Product Development and Delivery of Bangkok Airways said, "For more than 50 years, Bangkok Airways strives to deliver the best of products and services to our passengers. Thus, we always make sure that everything we provide on board is at its highest quality, especially our in-flight meals. This year, we would like to present our in-flight menus in a new perspective. Therefore, we have come up with the street food concept. The offering aims to provide authentic tastes of famous Thai street food with our 'boutique twist' to capture the essence of Bangkok Airways as a boutique airline. Our new street-food-style-menus will include Phad Thai with shrimps, Stir-fried chicken with basil leaves served with jasmine rice, Roasted duck noodles, Thai vermicelli with fish curry, Streamed spice rice with chicken, Southern-style spicy minced chicken served with jasmine rice, Thai spicy & sour soup with shrimps fried rice, Baked shrimps with glass noodles, Thai sweet egg-serpentine, Thai coconut jelly, Thai egg custard in pumpkin and Thai banana in coconut milk to name a few. These menus will be available on all Bangkok Airways flights (Domestic and International) originating from Suvarnabhumi Airport, Samui Airport and Phuket Airport. We believe that these new in-flight specialties, exclusively created by Bangkok Air Catering for Bangkok Airways passengers will add to an even more memorable flying experience for everyone."
"With the current global warming issues as well as a part of own CSR campaign – Love Earth Save Earth, Bangkok Airways has been committed to reduce the use of plastics on our planes. Most of our products used on board are environmental-friendly such as water cups, napkins, snacks bag, ceramic plates. Moreover, products that we use on board are either from a local community or a project that supports the welfare of local communities under our CSR campaign called "A community of love" such as the macadamia nuts and coffee products from the Mae fah Luang foundation, juice products from the Doi kham Royal project, and organic rice tea from the Organic Agriculture Project, Sukhothai Airport.", Ms. Amornrat added.
Charoonya Napon, Executive Chef of Bangkok Air Catering (BAC) said, "We are pleased to a part of Bangkok Airways Boutique Street Food concept this year. Our team of professional chefs has chosen some of the best Thai street food menus and developed them to be in line with Bangkok Airways boutique street food concept as well as to be able to serve passengers on the flights. Airline food requires certain procedures and standards compared to other food. Bangkok Air Catering has been long known for its expertise in producing delicious high quality food for airline travel. Our kitchen complies with HACCP/GMP standards, assuring passengers of top quality and the safest products. Our kitchen is fully HALAL-compliant, certified by The Central Islamic Committee of Thailand and our Kosher kitchen is fully certified and overseen by Thai Kashrut Services."
Amorn Rassamesangpetch, Director - Corporate Sales & Marketing of Bangkok Air Catering (BAC) said, "BAC is a world-class company that's entirely focused on its position as one of the highest quality airline caterers in Thailand. Currently, we are catering in-flight meals to more than 20 airlines at Suvarnabhumi airport such as Bangkok Airways, Emirates Airways, Turkish Airlines, Al El Israel Airlines, Kenya Airlines, Oman Air and Ethiopian Airlines. In addition to that, we also have our new catering facility at Phuket International Airport dubbed as Thailand's third busiest airport. Currently our BAC Phuket is catering to 9 airlines. We are also building our new facility at Chiang Mai International Airport which is expected to be in operation by the second quarter of 2019. Moreover, we also have other business units under Bangkok Air Catering which are; Gourmet Primo, a company that supplies high quality foods, delicacies and special frozen meals for consumers of kosher and halal food. We also operate 3 restaurants which are; Brasserie 9, a fine-dining restaurant serving the best of French cuisine, Al Saray restaurant that offers fine Lebanese and Indian cuisine."