Bangkok Airways Introduces the Self-Service Check-in Kiosk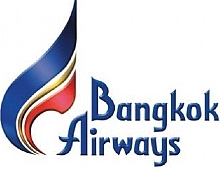 29 April, 2022
Bangkok Airways Public Company Limited introduces the "Self-Service Check-in Kiosk" to better accommodate its passengers. Passengers can enjoy the convenience of obtaining their boarding passes or baggage tags issued from a check-in kiosk. The self-service check-in kiosks will be available at Bangkok (Suvarnabhumi), Samui airport and Krabi airport, from 1 May 2022 onwards.
Ms. Siriporn Noochan, Vice President of Ground and Cargo Operations at Bangkok Airways PCL, said, "Due to the increasing travel demand and flight frequency during the first quarter of 2022, we foresee that more and more people will begin to travel in the following months. Therefore, we are launching the "self-service check-in kiosks" at three airports which are Suvarnabhumi, Samui and Krabi, in order to better facilitate our customers. This newly introduced service will allow our passengers to enjoy extra time at the airports as they could skip the long line at check-in counters."
"At Bangkok Airways, we aim to provide a unique and worry-free travel experience for every passenger and by integrating technology with our services, we hope that we can enhance our customer experience and continue to meet their changing lifestyles," Ms. Siriporn added.
Passengers who travel from Suvarnabhumi Airport can enjoy the self-service check-in kiosks in three simple steps: Check-in and get the boarding pass; Print the baggage tag; Stick the sticker tag on the baggage. Then passengers bring their baggage to the self-drop counter at row D and E on floor 4 of Suvarnabhumi airport, which will be open between 12 hours to 50 minutes prior to departure time.
However, the self-service check-in kiosks cannot be used for international flights, chartered flights, or for passengers requiring special assistance. Additionally, passengers holding special fare tickets such as students, university lecturers government personnel, and members of the Thai Chamber of Commerce are still required to present relevant documents at check-in.
Moreover, Bangkok Airways also provides two more alternative check-in channels which are; Bangkok Airways website at www.bangkokair.com and Bangkok Airways Mobile App (available on Apple Store and Google Play.) For more details about self-check-in services, please visit www.bangkokair.com/self-check-in and www.bangkokair.com/self-bagdrop