Bangkok Airways to increase flight frequency on the Bangkok and Phnom Penh (Cambodia) route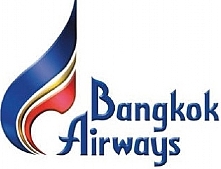 31 January, 2022
Starting from 1 February 2022, Bangkok Airways Public Company Limited will increase its direct service between Bangkok (Suvarnabhumi) and Phnom Penh (Cambodia) to be twice-daily flights to support the increasing travel demand between the two cities.
The added services between Bangkok (Suvarnabhumi) and Phnom Penh (Cambodia) will be operated by Airbus A319 or A320 aircraft. The outbound flight PG935 departs Bangkok (Suvarnabhumi International airport) at 17.20hrs. and arrives at Phnom Penh International Airport at 18.35hrs. The inbound flight PG936 leaves Phnom Penh International airport at 19.25hrs. and arrives Bangkok (Suvarnabhumi International airport) at 20.40hrs.
This Time Table below shows roundtrip flights between Bangkok (Suvarnabhumi) – Phnom Penh (Cambodia)
Route
Flight
Departure
Arrival
BKK - PNH
PG931
08.50
10.05
PG935
17.20
18.35
PNH - BKK
PG932
10.55
12.10
PG936
19.25
20.40
Passengers can visit the website https://www.bangkokair.com/flight/flightSchedule for more details about flight schedules.
Moreover, Bangkok Airways is currently offering an extra 10 kilograms baggage allowance for all passengers traveling on Bangkok – Phnom Penh flights, where economy passengers are offered a total of 30 kilograms baggage allowance while Business Class passengers are offered 50 kilograms. The added privilege is available until 26 March 2022 and valid on Bangkok Airways (PG) operating flights only. (*Baggage allowance for infants will be 10 kilograms).
Bangkok Airways continues to strictly follow precautionary measures against the COVID-19, including disinfecting and cleaning key areas such as check-in counters and passenger lounges. The airline's precaution and prevention plans follow the standards and guidelines of the Department of Disease Control, the Ministry of Public Health, and The Civil Aviation Authority of Thailand (CAAT).