Drukair receives Druk Thuksey award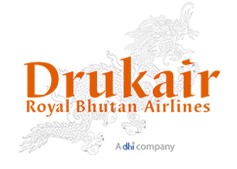 20 December, 2021
𝗞𝗮𝗱𝗿𝗶𝗻𝗰𝗵𝗲𝘆 𝗹𝗮 𝗠𝗲𝘄𝗮𝗻𝗴 𝗰𝗵𝗼
Drukair, Royal Bhutan Airlines, is deeply humbled and tremendously honored to receive the Druk Thuksey Medal (Heart Son of the Thunder Dragon) from His Majesty on the 114th National Day, December 17, 2021. On the same day, Drukair received Tokha from His Majesty as a gesture of appreciation from the throne.
"𝘛𝘩𝘦 𝘋𝘳𝘶𝘬 𝘛𝘩𝘶𝘬𝘴𝘦𝘺 𝘩𝘢𝘴 𝘣𝘦𝘦𝘯 𝘤𝘰𝘯𝘧𝘦𝘳𝘳𝘦𝘥 𝘵𝘰 𝘋𝘳𝘶𝘬𝘢𝘪𝘳 𝘪𝘯 𝘳𝘦𝘤𝘰𝘨𝘯𝘪𝘵𝘪𝘰𝘯 𝘰𝘧 𝘪𝘵𝘴 𝘦𝘹𝘤𝘦𝘱𝘵𝘪𝘰𝘯𝘢𝘭 𝘴𝘦𝘳𝘷𝘪𝘤𝘦 𝘵𝘰 𝘵𝘩𝘦 𝘕𝘢𝘵𝘪𝘰𝘯 𝘧𝘰𝘳 𝘰𝘷𝘦𝘳 40 𝘺𝘦𝘢𝘳𝘴, 𝘢𝘯𝘥 𝘦𝘴𝘱𝘦𝘤𝘪𝘢𝘭𝘭𝘺 𝘥𝘶𝘳𝘪𝘯𝘨 𝘵𝘩𝘦 𝘊𝘖𝘝𝘐𝘋-19 𝘱𝘢𝘯𝘥𝘦𝘮𝘪𝘤 𝘣𝘺 𝘰𝘱𝘦𝘳𝘢𝘵𝘪𝘯𝘨 𝘯𝘶𝘮𝘦𝘳𝘰𝘶𝘴 𝘳𝘦𝘱𝘢𝘵𝘳𝘪𝘢𝘵𝘪𝘰𝘯 𝘧𝘭𝘪𝘨𝘩𝘵𝘴 𝘢𝘯𝘥 𝘵𝘳𝘢𝘯𝘴𝘱𝘰𝘳𝘵𝘪𝘯𝘨 𝘦𝘴𝘴𝘦𝘯𝘵𝘪𝘢𝘭 𝘮𝘦𝘥𝘪𝘤𝘢𝘭 𝘴𝘶𝘱𝘱𝘭𝘪𝘦𝘴 𝘢𝘯𝘥 𝘷𝘢𝘤𝘤𝘪𝘯𝘦𝘴.
𝘋𝘳𝘶𝘬𝘢𝘪𝘳 𝘸𝘢𝘴 𝘪𝘯𝘴𝘵𝘪𝘵𝘶𝘵𝘦𝘥 𝘶𝘱𝘰𝘯 𝘙𝘰𝘺𝘢𝘭 𝘗𝘳𝘰𝘤𝘭𝘢𝘮𝘢𝘵𝘪𝘰𝘯 𝘪𝘯 1981. 𝘐𝘯 𝘪𝘵𝘴 𝘩𝘪𝘴𝘵𝘰𝘳𝘪𝘤 𝘧𝘪𝘳𝘴𝘵 𝘧𝘭𝘪𝘨𝘩𝘵 𝘪𝘯 1983, 𝘪𝘵 𝘵𝘰𝘰𝘬 17 𝘱𝘢𝘴𝘴𝘦𝘯𝘨𝘦𝘳𝘴 𝘵𝘰 𝘒𝘰𝘭𝘬𝘢𝘵𝘢 𝘰𝘯 𝘢 𝘋𝘰𝘳𝘯𝘪𝘦𝘳 𝘢𝘪𝘳𝘤𝘳𝘢𝘧𝘵.
𝘋𝘳𝘶𝘬𝘢𝘪𝘳'𝘴 𝘳𝘰𝘭𝘦 𝘩𝘢𝘴 𝘣𝘦𝘦𝘯 𝘪𝘯𝘵𝘦𝘨𝘳𝘢𝘭 𝘵𝘰 𝘉𝘩𝘶𝘵𝘢𝘯'𝘴 𝘳𝘦𝘴𝘱𝘰𝘯𝘴𝘦 𝘵𝘰 𝘵𝘩𝘦 𝘱𝘢𝘯𝘥𝘦𝘮𝘪𝘤. 𝘚𝘪𝘯𝘤𝘦 𝘔𝘢𝘳𝘤𝘩 2020, 𝘪𝘵 𝘰𝘱𝘦𝘳𝘢𝘵𝘦𝘥 𝘯𝘶𝘮𝘦𝘳𝘰𝘶𝘴 𝘳𝘦𝘱𝘢𝘵𝘳𝘪𝘢𝘵𝘪𝘰𝘯 𝘧𝘭𝘪𝘨𝘩𝘵𝘴 𝘵𝘰 𝘣𝘳𝘪𝘯𝘨 𝘣𝘢𝘤𝘬 𝘉𝘩𝘶𝘵𝘢𝘯𝘦𝘴𝘦 𝘸𝘪𝘴𝘩𝘪𝘯𝘨 𝘵𝘰 𝘳𝘦𝘵𝘶𝘳𝘯 𝘩𝘰𝘮𝘦 𝘧𝘳𝘰𝘮 𝘢𝘭𝘭 𝘰𝘷𝘦𝘳 𝘵𝘩𝘦 𝘸𝘰𝘳𝘭𝘥. 𝘔𝘢𝘯𝘺 𝘰𝘧 𝘵𝘩𝘦𝘴𝘦 𝘧𝘭𝘪𝘨𝘩𝘵𝘴 𝘸𝘦𝘳𝘦 𝘰𝘱𝘦𝘳𝘢𝘵𝘦𝘥 𝘵𝘰 𝘤𝘪𝘵𝘪𝘦𝘴 𝘣𝘦𝘺𝘰𝘯𝘥 𝘋𝘳𝘶𝘬𝘢𝘪𝘳'𝘴 𝘳𝘰𝘶𝘵𝘦𝘴. 𝘋𝘳𝘶𝘬𝘢𝘪𝘳 𝘢𝘭𝘴𝘰 𝘤𝘰𝘯𝘵𝘪𝘯𝘶𝘦𝘥 𝘵𝘰 𝘵𝘳𝘢𝘯𝘴𝘱𝘰𝘳𝘵 𝘱𝘢𝘵𝘪𝘦𝘯𝘵𝘴 𝘵𝘰 𝘐𝘯𝘥𝘪𝘢 𝘥𝘶𝘳𝘪𝘯𝘨 𝘵𝘩𝘦 𝘱𝘢𝘯𝘥𝘦𝘮𝘪𝘤 𝘧𝘰𝘳 𝘮𝘦𝘥𝘪𝘤𝘢𝘭 𝘵𝘳𝘦𝘢𝘵𝘮𝘦𝘯𝘵𝘴 𝘥𝘦𝘴𝘱𝘪𝘵𝘦 𝘴𝘦𝘷𝘦𝘳𝘦 𝘳𝘪𝘴𝘬𝘴 𝘢𝘯𝘥 𝘰𝘱𝘦𝘳𝘢𝘵𝘪𝘰𝘯𝘢𝘭 𝘳𝘦𝘴𝘵𝘳𝘪𝘤𝘵𝘪𝘰𝘯𝘴. 𝘐𝘵 also 𝘰𝘱𝘦𝘳𝘢𝘵𝘦𝘥 several 𝘤𝘢𝘳𝘨𝘰 𝘧𝘭𝘪𝘨𝘩𝘵𝘴 𝘣𝘳𝘪𝘯𝘨𝘪𝘯𝘨 𝘪𝘯 𝘮𝘦𝘥𝘪𝘤𝘢𝘭 𝘴𝘶𝘱𝘱𝘭𝘪𝘦𝘴 𝘪𝘯𝘤𝘭𝘶𝘥𝘪𝘯𝘨 𝘊𝘖𝘝𝘐𝘋-19 𝘷𝘢𝘤𝘤𝘪𝘯𝘦𝘴, 𝘸𝘩𝘪𝘤𝘩 𝘸𝘦𝘳𝘦 𝘶𝘴𝘦𝘥 𝘧𝘰𝘳 𝘵𝘩𝘦 𝘯𝘢𝘵𝘪𝘰𝘯-𝘸𝘪𝘥𝘦 𝘷𝘢𝘤𝘤𝘪𝘯𝘢𝘵𝘪𝘰𝘯 𝘤𝘢𝘮𝘱𝘢𝘪𝘨𝘯.
𝘛𝘩𝘦 𝘧𝘳𝘰𝘯𝘵𝘭𝘪𝘯𝘦 𝘴𝘵𝘢𝘧𝘧 𝘰𝘧 𝘋𝘳𝘶𝘬𝘢𝘪𝘳 𝘩𝘢𝘷𝘦 𝘴𝘱𝘦𝘯𝘵 𝘢 𝘵𝘰𝘵𝘢𝘭 𝘰𝘧 𝘢𝘳𝘰𝘶𝘯𝘥 1000 𝘥𝘢𝘺𝘴 𝘪𝘯 𝘲𝘶𝘢𝘳𝘢𝘯𝘵𝘪𝘯𝘦 𝘥𝘶𝘳𝘪𝘯𝘨 𝘵𝘩𝘦 𝘱𝘢𝘯𝘥𝘦𝘮𝘪𝘤."