Ethiopian Airlines Wins Best Overall in Africa Award at the 2023 APEX Passenger Choice Awards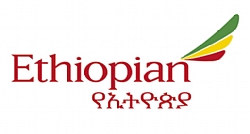 25 May, 2023
Ethiopian Airlines, Africa's leading aviation group, is pleased to announce that it has been crowned as the winner of Best Overall in Africa award at the 2023 APEX Passenger Choice Awards, at a ceremony held in Dublin, Ireland on 25 May 2023.
As 'Best Overall in Africa' winner, Ethiopian has taken the accolade for 'Best Cabin Service', 'Best Entertainment', 'Best Food and Beverage', 'Best Seat Comfort' and 'Best Wi-Fi' in Africa.
Regarding the award, Ethiopian Airlines Group CEO Mr. Mesfin Tasew said, "We are thrilled by the prestigious award we have won today. This award is special to us as our beloved customers voted for us. I would like to thank them for their vote of confidence in our services. We will continue exceeding expectations in delivering the highest quality and consistent services to our esteemed customers. This is a testimony to the hard work our employees have exerted to make sure our customers receive the quality services and care they deserve. I am indebted to all my Ethiopian colleagues who have shown their higher level of dedication and commitment to the satisfaction and safety of our customers. Congratulations to all Ethiopian families!"
"As the 2023 APEX Best Airline in Africa, Ethiopian Airlines has soared above the competition with its unparalleled commitment to customer satisfaction, innovative services, and its state-of-the-art fleet." APEX CEO Dr. Joe Leader on his part stated, "Watching Ethiopian Airlines' incredible growth as the largest airline in all of Africa underlines the airline's philosophy in being the new spirit of Africa with comfortable seats, delectable cuisine, and outstanding in-flight entertainment delivering an unforgettable journey to every passenger."
The APEX Passenger Choice Awards, which is one of the most prestigious in the industry, recognizes airlines in various regions for providing the best passenger experiences. Partnering with TripIt® from Concur®, the world's highest-rated travel-organizing app, anonymous passenger feedback gathered based on neutral, third-party passenger feedback and insights. Passengers from more than one million flights and nearly 600 airlines from around the world were given the opportunity to provide anonymous ratings in five subcategories: seat comfort, cabin service, food and beverage, entertainment, and Wi-Fi.
It is to be recalled that Ethiopian crowned the 2022 APEX Regional Passenger Choice Awards for 'Best Entertainment' and 'Best Cabin Service' in Africa last year. The airline has also won multiple reputable awards, including SKYTRAX and Business Travel Awards consecutively in the past years.