Pegasus Airlines launches daily flights from Manchester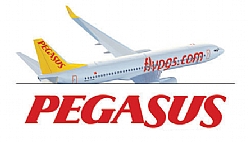 3 July, 2019
Leading low-cost carrier Pegasus Airlines launched scheduled flights between Manchester Airport and Istanbul's Sabiha Gokcen and beyond today, 1st July 2019. Pegasus is currently operating five flights each week but from the 21st July 2019 Pegasus will be increasing frequency to daily flights between Manchester and Istanbul Sabiha Gokcen, adding to the airline's four-times daily flights from London Stansted in the UK.
Pegasus' flights will connect Manchester Airport to 32 destinations across Turkey, including coastal, cultural and gourmet hotspots such as Alanya, Antalya, Bodrum, Dalaman and Izmir, and 39 international destinations including Abu Dhabi, Amman, Bahrain, Beirut, Bishkek, Doha, Dubai, Hurghada, Muscat, North Cyprus, Riyadh, Sharjah, Sharm El Sheikh, Tbilisi and Tel Aviv.
Flying between Manchester Airport and Istanbul Sabiha Gokcen, the new route will increase in frequency to daily flights from 21st July 2019. Pegasus' new flights will depart from Manchester Airport at 12:40, arriving in Istanbul Sabiha Gokcen at 18:50; flights from Istanbul will depart at 09:30, reaching Manchester Airport at 11:55 (local times apply).
Flights can be booked now on www.flypgs.com/en with fares starting at just £79.99 one way, including taxes and charges. With the launch of the new Manchester route, Pegasus now flies a low cost scheduled service to 35 destinations in Turkey and 75 in the rest of the world, bringing its total network to 110 destinations in 42 countries.
To mark the launch of Manchester flights Pegasus Airlines gave away three return flights to guests at Manchester Airport checking into the inaugural flight on 1st July 2019. Commenting on the launch of Pegasus' newest route, Güliz Öztürk, Pegasus Airlines' CCO said: "The Pegasus family is thrilled to be launching flights from Manchester Airport. We're looking forward to welcoming our guests from the region who will be able to take advantage of our low fares and our extensive network of exciting destinations in Turkey and beyond. The UK is among our key markets in Europe and we already operate four flights a day from London Stansted to Istanbul with additional direct flights to Izmir Airport up to four times a week in summer. We have flown over 2.7 million guests to and from the UK on these routes since launching and are now delighted to be adding such a key destination as Manchester. We look forward to welcoming both new and existing guests to our airline in 2019."
Julian Carr, Aviation Director at Manchester Airport, said: "We're delighted that Pegasus Airlines is starting flights to Istanbul. It's a beautiful city to explore and with the airline's excellent onward connections across Turkey and the Middle East, we're confident the flights will prove hugely popular with our 29 million passengers."
Pegasus connects Manchester Airport to 71 destinations
Pegasus connects Manchester Airport to a total of 71 destinations in Turkey and beyond via Istanbul including 32 destinations within Turkey: Adana, Amasya (Merzifon), Ankara, Antalya, Balikesir/Edremit, Batman, Bingöl, Bodrum, Dalaman, Denizli, Diyarbakir, Elazig, Erzincan, Erzurum, Gaziantep, Gazipasa Alanya, Hatay, Izmir, Kahramanmaras, Kars, Kayseri, Konya, Malatya, Mardin, Mus, Ordu, Samsun, Sanliurfa, Sinop, Sivas, Trabzon and Van; and 39 other international destinations: Abu Dhabi, Almaty, Amman, Athens, Baghdat, Bahrain, Basra, Beirut, Belgrade, Bishkek, Bucharest, Cairo, Dammam, Doha, Dubai, Erbil, Grozny, Hurghada, Jeddah, Kharkiv, Kiev, Krasnodar, Kuwait, Lviv, Mineralnye Vody, Muscat, North Cyprus (Ercan), Pristina, Riyadh, Sarajevo, Sharm El-Sheikh, Skopje, Tbilisi, Tehran, Tel Aviv, Tiran and Zaporizhia.