Pegasus launches two new direct routes in Turkey from London Stansted and flights to Helsinki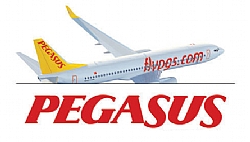 30 January, 2020
Pegasus launches two new direct routes in Turkey from London Stansted and flights to Helsinki from Istanbul Sabiha Gökçen
Pegasus adds two new direct routes to Ankara and Antalya available from London Stansted for UK passengers as well as a 43rd country to its network with the launch of flights to Helsinki from Istanbul Sabiha Gökçen.
Turkey's digital airline Pegasus continues to expand its network with the launch of three new routes for 2020. UK passengers travelling from London Stansted will be able to fly direct to the Turkish capital city of Ankara with flights launching on 29 March 2020 with prices from £59.99, as well as direct flights to Antalya, one of Turkey's most popular seaside destinations in the Mediterranean, as of 8 June 2020, with prices from £69.99 one way.
Also launching Helsinki from Istanbul Sabiha Gökçen on 9 June 2020, its very first route in Finland, Pegasus extends its network of destinations to 43 countries and increases its presence in Northern Europe with flights to Helsinki in addition to Copenhagen, Oslo and Stockholm.
PEGASUS ADDS TWO NEW DIRECT ROUTES FROM THE UK
Direct flights to Ankara Esenboğa international airport will depart from Stansted airport on Tuesdays, Thursdays and Saturdays at 20:40, arriving at 02:25. Returning flights will depart from Ankara at 04:05 on Wednesdays, Fridays and Sundays and landing in London Stansted at 06:20.
Pegasus' direct flights between London Stansted and Antalya international airport will depart on Mondays and Thursdays both ways. Flights will take off from London Stansted at 10:00, landing at 16:05 in Antalya. Returning flights from Antalya will depart at 06:35, reaching London Stansted at 09:00.
The two new direct low-cost Turkish routes from London Stansted airport come in addition to Pegasus' current services, up to five times daily, available from London Stansted to Istanbul Sabiha Gökçen and up to five times weekly flights to Izmir Adnan Menderes airport. Connect onwards from Istanbul with destinations such as Antalya and Bodrum in Turkey and Dubai, Abu Dhabi, Beirut, Tehran, Tbilisi and Tel Aviv ranking as some of the most popular international routes available from London. On 1st July 2019, Pegasus launched its scheduled daily flights between Manchester Airport, its second base in the UK after London Stansted, and Istanbul with an array of onward connections.
NEW HELSINKI ROUTE
Flights from Istanbul Sabiha Gökçen airport to Helsinki will depart four times weekly on Tuesdays, Thursdays, Saturdays and Sundays both ways and are already available to book now on flypgs.com or the Pegasus app. Pegasus passengers travelling from Helsinki will enjoy new affordable routes to a wide network of destinations available via a short and easy connection in Istanbul.