Pegasus Opens Doors to Expats!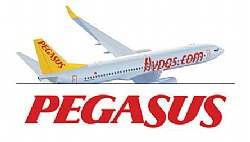 24 January, 2019
Pegasus, Turkey's digital airline, continues to expand both its fleet, with new environmentally friendly aircraft coming into operation in 2019, and its cockpit teams, in line with the increasing size of its fleet and rising market demand. In accordance with its people-oriented approach, Pegasus is restructuring its orientation processes in order to maximise satisfaction and value for pilots during the training and initial working periods.
Pegasus offers its cockpit team the chance to work part-time, European-level salaries, substantial benefits and continuous opportunities for self-development through training that focuses on safety and quality. Pegasus also offers the Commander Upgrade to First Officers with sufficient experience, Self-Type Rating training for candidates with experience in different types of aircraft, Type Rating and Line Training with guaranteed employment to inexperienced candidates, and a chance to become a pilot with its new Pilot Training Programme*.