SkyUp begin to operate flights to the new terminal at Zaporizhzhia airport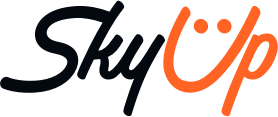 20 October, 2020
The regular flight of the Ukrainian low-cost airline SkyUp Airlines Kyiv — Zaporizhzhia — Kyiv became the first that the airport welcomed to its new terminal.
With the opening of a new terminal having manyfold better capacity than its predecessor, it will become even easier and more convenient to travel around Ukraine and open the world with SkyUp flights from Zaporizhzhia.
Zaporizhzhia is one of the main, pivotal directions on our map of domestic service with great potential for tourist and business travel, and is a priority area for further development of the domestic flight programme. For now, we're resuming flights and have already extended to operations on the route Kyiv — Zaporizhzhia — Kyiv for the winter season. Our plans, as soon as the restrictions are lifted, are to launch international flights and further develop new directions.
Currently, at the end of spring — summer 2021 we plan to launch flights from Zaporizhzhia to Batumi, Larnaca, and Prague. Tickets are already available at skyup.aero.
"The opening of the new terminal is not only an important milestone in the development of Zaporizhzhia airport as an air gateway of the south-east of Ukraine, but also a significant event for all civil aviation, especially in such a difficult period we're going through now. Despite the significant drop in passenger traffic caused by the pandemic and the lack of opportunities for the full resumption of international air traffic, which ensured the implementation of our social mission of reviving the culture of domestic flights, the development of regional service remains our priority", says acting CEO at SkyUp Airlines Dmytro Seroukhov. "Government support to such important infrastructure projects that make the passenger experience more comfortable also opens up ample opportunities for more destinations, higher frequencies, and possibly lower fares. We're grateful to the city and airport authorities for the honor to the first Ukrainian low-cost airline to operate the first flight."
"We and SkyUp have common values ​​and vision for the development of Ukrainian aviation. The airline's flights to Zaporizhzhia are in great demand, and it's symbolic that the work of the new terminal started from welcoming one of them. I certainly believe in the potential of our partnership and I am convinced that together we'll implement many more fruitful decisions that will delight our passengers — residents and guests of the city", says Head of Zaporizhzhia airport Oleksandr Dubrevsky.