SkyUp in October: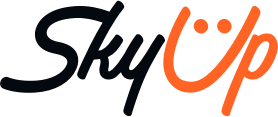 11 November, 2021
Mid-autumn is the time to see the results of the warm season and get ready for new winter holidays. In October, SkyUp congratulated the two millionth passenger, launched new flights and expanded the aircraft fleet to make traveling even more comfortable.
Month in figures
During October, SkyUp performed 1,696 flights* with 272,608 passengers* travelled on them.
In total, for the full 10 months of 2021, 2,246,554 passengers traveled by SkyUp*. By the way, it's the first time we transported more than 2 million people in less than a year.
Our milestone passenger was a boy who, together with his parents, went on vacation to the UAE. Read more how the airline has congratulated him.
15th SkyUp aircraft
Another medium-haul Boeing 737-800NG with 189 seats has been added to the airline's fleet. The aircraft was released in 2006. It features Ih eco-efficient split-tip winglets, which are already common for the airline's fleet. The aircraft arrived in the SkyUp branded livery and received the state registration number UR-SQQ.
Supporting the passengers: compensations and discounts
SkyUp Airlines always strives to provide maximum comfort and quality of service during the trip. Even in those circumstances when, due to anti-pandemic restrictions, it was not possible to fly, we fulfilled our obligations and provided refunds to passengers.
Now we have already compensated the passengers UAH221 million, and payments continue. In addition, we give 15% and 20% discounts on the next travel to passengers of flights delayed more than 3 or 5 hours. The program is valid from June 1, 2021 and applies to all flights, regardless of the reason for the delay.
The airline also supports passengers who have been diagnosed with Covid-19. If you bought a ticket and got sick with coronavirus, contact us at letstalk@skyup.aero. Together we will change the travel dates. It is necessary to notify the airline of the decision and provide a positive test result for COVID-19 with a QR code no later than 12 hours before departure (or no later than 48 hours before departure if you travel to Tanzania (Zanzibar Island) or Sri Lanka). You can find out more details by following the link.
More opportunities to travel
In October, we began operating flights from Kyiv to the island of Zanzibar for everyone who wants to spend a cloudy autumn or cold winter in a sunny and warm African resort.
The SkyUp flight program also expanded with flights to the Spanish capital. Now you can go to Madrid twice a week: on Mondays and Fridays. In addition, SkyUp flies to Alicante, Barcelona and the Spanish island of Tenerife.
For everyone who missed the Asian atmosphere, in October we announced the resumption of flights to Sri Lanka. Flights will begin at the end of December, which means you can plan your Christmas holidays on the tropical island.
SKY-PORT handling has received the SAAU certificate
SKY-PORT, the airline's own handling system, has received a certificate of conformity from the State Aviation Administration of Ukraine and is now able to provide passenger handling and ground administration services not only to SkyUp, but also to other airlines. Previously, the handling staff underwent training at the Dubai airport. This helped to strengthen the expertise in IATA standards for ground handling specialists, as well as to improve the allocation, management and planning of ground resources for flight operations.
Alfa-Bank donates 100 tickets for a trip with SkyUp
At the end of October, we announced the Lucky Seat campaign. Alfa-Bank will give 100 tickets to our passengers on 14 routes from Kyiv. On each of these flights, a «lucky» seat will be determined using a random number generator, and then it will be branded with a cover. For the passenger who gets it, Alfa-Bank will replenish the passenger's personal balance on the carrier's website in an amount equivalent to the cost of the ticket.