TAP recognized with excellence award in management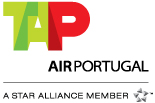 18 July, 2018
David Neeleman received in London, on behalf of TAP, the prestigious prize "The Airline Strategy Awards", provided by Airline Business, in the "Finance" category, in recognition of excellence in management resulting from the investment of the Atlantic Gateway Consortium on TAP and its very positive impact on the Portuguese Airline.
Accompanied by Trey Urbhan, Chief Strategy Officer of TAP, David Neeleman considered that "those who truly deserve this prize are the employees. They are the key to TAP's success and this important international recognition, who honors and further motivates us to the important challenges we continue to face."
With the award of this prize to TAP, the panel of world business aviation experts that constitute the Jury of the Airline Business Awards highlights the importance of the €348 million investment made by Atlantic Gateway on TAP and how this has helped the Company to reverse the negative results, registering a strong increase in the number of passengers carried, betting on growth in new markets and in the modernization of its fleet.
"With the new structure, TAP increased its market share in the connections between Lisbon and Continental Europe, from 38% to 48%, and consolidated its leading position in the South Atlantic, creating more than 500 different origin-destination combinations between Brazil and Europe, through the partnership with Azul", emphasizes the Jury of the Awards in the official note on which bases the prize attribution.
The experts also mention, among other things, the TAP fleet modernization plan, with the initial ordering of 53 new aircraft to Airbus, which has already been added 18 more, totaling 71 new aircraft, or the growth and expansion plans presented by David Neeleman for the North American market, which is already the third most important for TAP in terms of business, when it was previously ninth position among the regions served by the Airline.
The Airline Strategy Awards aim to celebrate annually the personalities and Airline Companies that demonstrate a dynamic leadership and a clear vision for the future.